Are you using Windows 10 and you are on the lookout for the best antivirus to install on your system? If your answer is affirmative, then you are on the right page. We have got the best antivirus for you.
The question is: why is it important for you to install an antivirus on your system?
Windows is the most prominent operating system, and because of this, it has become a favorite target for hackers.  To protect your computer system from hackers, it is essential that you get an antivirus.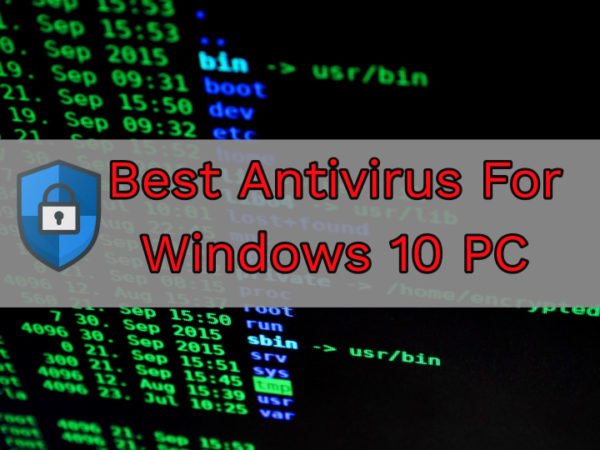 Of course, you need to update your antivirus from time to time.  Some users do not like this idea, but it is necessary because the bad guys are always on the lookout for methods to access your data and have full control over your system.  A smart way to keep you safe from their latest threat is to the periodic update of your antivirus package.
There are lots of threats out there, ranging from ransomware to blended malware and Fileless attack. The fact is that these threats are so numerous that you won't know their names.  You might know the names of some, but the majority will appear strange to you.  And, you need to take extra caution if you are using Windows 10.
Are windows defenders potent enough to keep you secured? What are the best windows 10 antivirus available?  These and other questions will be answered in this course of this informative article.
Best Free Antivirus For Windows 10
Bitdefender Antivirus Plus 2019
When it comes to consistency, the Bitdefender antivirus takes the lead.  Bitdefender achieved a full protection rating in seventeen out of twenty reports of the AV-test.  This result shows that Bitdefender antiviruses are reliable, and you can trust them now and in years to come. The product combines its array of smart technologies with excellent core antivirus engines to protect you from harm.
With accurate web monitoring, the antivirus pinpoints and blocks all malicious links. Apart from that, the antivirus alerts you there is anything that could compromise your system via vulnerability scanner. It ensures that all your online transactions are secured.  And, even if someone breaches your defense, the ransomware protection ensures that your sensitive documents are intact.
The advantage of this antivirus is that it comes at a competitive price compared with the high level of security you get with it.
Trend Micro Antivirus + security
This product has a lot to offer; it comes with the necessary features you need to keep your PC of These features are email checks, web filtering, ransomware protection, and antivirus. The Trend Micro Antivirus does not come with optional features that you will never use.
According to the reports from independent testing, this product delivers an outstanding result.  And, the AV-Comparative Real-world protection test conducted in the February and March 2017 together with the one carried out in September, October, and November 2018 showed that Trend Micro Antivirus offers complete (100 percent) protection against test threats.
You will be interested to learn that this product offers you protection for iOS, Android, Windows, and Mac. It comes with features like password management, parental control, device optimization, social media monitoring, and many more.
Kaspersky Free Antivirus
Kaspersky Free Antivirus has been around for a very long time, and it appears most often at or close to the highest point of the scoreboard for the majority of the antivirus testing lab.
When you get the Kaspersky Free Antivirus, you own a top-quality antivirus engine that blocks all malicious links for absolutely nothing. It works silently; you will barely know it's on your system; what is required of you is to keep it running.
Other excellent features on Kaspersky Free Antivirus are the password management, parental controls, files backup, online banking protection, and coverage for mobile devices.  The antivirus can also run on Mac and Windows.
Panda Free Antivirus
The panda security has been into the development of top-quality antivirus software for years back.  And, the Panda Free Antivirus is one best window detection engines around. The AV- Comparative Real world protection tests are put in place to check the ability of different antivirus. This great antivirus received a constituent 100 percent protection score from July to November 2017.
If you need a low-priced antivirus, then the Panda Free Antivirus may be your best choice. Panda Dome Essentials features Wi-Fi Protection, personal firewall, and a protected browsing environment. When you upgrade your plan, you will enjoy advanced features like app locking, parental control, a call blocker, Anti-theft, device optimization, unlimited VPN, remote device management, among others.
Panda Free Antivirus is an excellent product that offers you the needed protection, but if you want something more of a security suite, then you can go for the Dome range.
Windows Defender
Windows Defenders has been around since the days of Vista, but with no significant achievement at first.  Then, the defender was at the bottom of the protection ranking with 60 to 70 percent detection rate.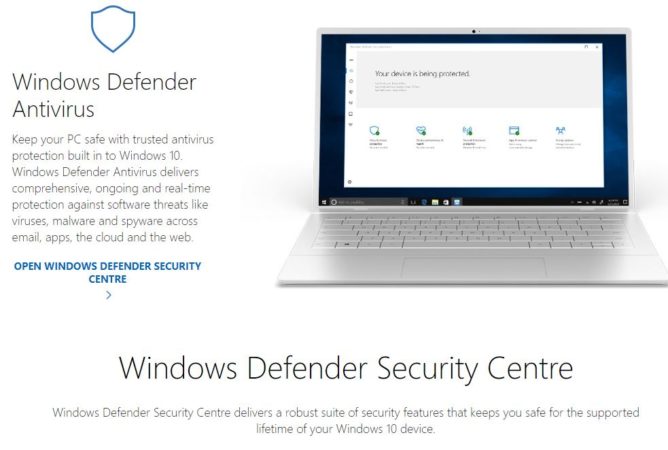 However, things have taken a new turn today. The product is now different from what it used to be.  The defender earned a 99.1 percent protection rating from summary report of the AV-Comparatives' Real World protection Test of July to November 2017.
The product took the 13th position out of 21. Though this position is not commendable enough, it still performed better than some renown commercial engines like McAfee, Emsisoft, ESET, Adaware, Fortinet and more.
The Windows Defender is unique in that it comes with your PC, it is enabled by defaults. Therefore, you do not have anything to configure or learn.
Final Thoughts on Windows 10 Antivirus for PC
The security of your system is essential as it has to do with the protection of all your important files and your online activities, which includes online transactions. The best way to get yourself protected from the actions of hacker is by going for a top-quality antivirus.
All of these Antivirus software is compatible with Dell Laptops, HP Laptops, Asus Laptops, Lenovo Laptops, and all other major brands.