I really don't like the default music player in Windows 10 or Windows 11 for that matter. So I decided to customize the sound the way like, thus started my research to find some of the top free equalizer for Windows 10 or 11.
I spent more than a week trying all the different audio equalizers on my new Windows 11 Laptop and on my old Windows 10 PC as well. According to my experience I share the results with you guys.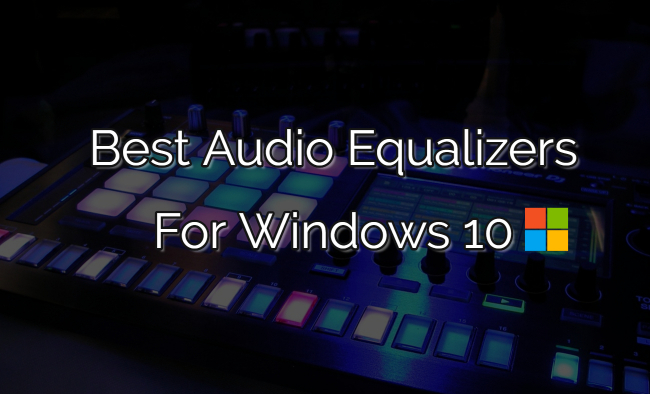 How can you enjoy music when it doesn't sound right?
That's why you gotta make it sound right using Audio Equalizers on your PC! And to help you with this , I have compiled the softwares list after searching over the internet.
We have to buy some of these softwares while other softwares land on your doorstep for free. However, find the most compatible software that works wonders on the frequency of your sound. You don't have to fret and the job is done before you can complain.
Note: Hey, I have spend lot of time compiling this list and added direct one click download links for you convenience. So Please take a second to share the article.
Here are some of the best free and paid Audio Equalizers for Windows 10.
1.EQUALIZER APO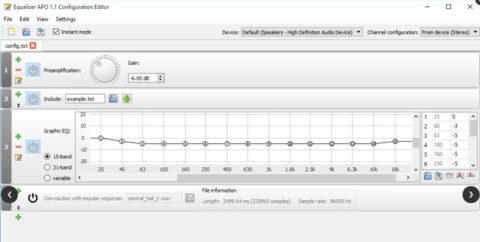 This sound equalizer has some of the best features you will find in the market.
It is famous for the multi-channel usage, 3D sound editing, lower CPU usage, and extraordinary user feasibility.
You have many filters to choose from. It functions as an Active Processing Object and works on APO files only. If you are expecting a Graphical User Interface, this app lacks exactly that. But the biggest point to party on is that this app is absolutely FREE.
2.FXSOUND
FXSound is without a doubt the best sound equalizer for Windows 10 PC. If you want to enjoy the ultimate sound experience then you must try this. They have a free trial version for a week.
No matter how low the quality of your initial sound is, FX Sound makes it perfect! It offers a better user interface and enables quick equalizing.
It allows 3D sound surrounding, editing with pre-existing values and bass adjustment.
It allows audio compression and limiting. It gives you the feel of dealing with music in a posh editing studio with high-tech speakers and headphones. But you won't need any of them.
In fact, it works in the background while you can deal with your other work. It is instant and you can edit music while listening to it without playback delay.
The free version has limited tools to work with. A lifetime premium membership for $39.99 is available.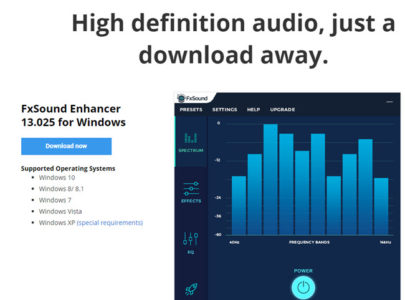 3.BOOM 3D
Initially, this equalizer's services were for MAC and iOS alone. But the makers are generous enough to extend the helping hand to Windows users as well.
If you are a music lover who wants the sound to play in a specific way, this tool is for you.
It allows us to create 3D surround sound, contains filters, bass adjustment and preset values make work easier. It not only modifies the sound but helps to increase volume as well. It is available for a 30-day trial. Otherwise, it costs INR 2799.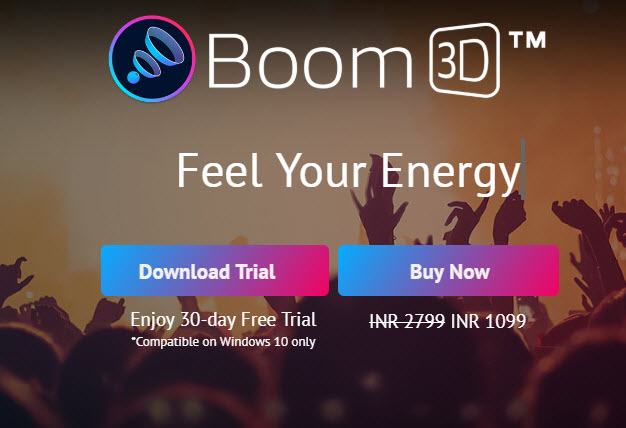 4.VIPER4WINDOWS
This is one of the frequently used apps for its diverse settings. It has preset values like Rock, Super bass, Jazz and also allows custom equalizing.
Its Viper Xbass option allows you to add more bass to the Audio.
The Viper XClarity decreases the distortion to make them sound more clear and audible. It allows sound compression in case of high pitched sounds and changes audio output in lesser time.
It works via 18 bands to allow the user to customize his sound better. It is absolutely FREE to use!
5.EQUALIZER PRO
This is a better version than Equalizer APO. This app is famous for the NO nonsense way of editing music.
It is simple, easy and accurate. It is a ten band equalizer with almost 20 presets for the users to choose from.
It allows bass reset, a boost feature and single-band altering. It helps you to increase the volume without distortion and eliminates any pre-existing disturbances.
This is not a free app like Equalizer APO and requires you to pay $19.95 after the free trial period (7 days).
6.VOICEMEETER BANANA
What caught my attention is the app's name. Isn't it really funny? But it is not an app that's funny or silly.
If you are a YouTuber or a dedicated audio editor, this app is your best companion. Any problem in the microphone audio can be fixed besides the normal equalizer functions.
The app has a Master section where most of its tools are present. You can edit your audio accordingly.
Its entire layout gives you a professional feel. Though it looks complicated, you have to start working on it to know how easy everything is.
It has an advanced audio mixer that promotes altering audio input to give needed output. Compression doesn't create distortion and you can work with low pitch sounds too.
It has most of its major features for free while you can purchase the others if required.
7.GRAPHIC EQUALIZER STUDIO
It is an automatic and efficient tool to work with. If you play music or watch a video on your Windows device, this app automatically sets the maximum and minimum amplitudes to provide the best audio quality.
You will have the right bass and audio surrounding for your action movies! This is best for people who listen to internet radio that sounds so distorted that your ears bleed! For your romantic audio files, you have the 'Q-factor' that ensures smoother and softer sound.
The RM level meter and peak value level are useful to edit the input according to preference and subsequent output is generated. DSP normalization of wave files, programming frequency, sync to loop feature and 1/3 Octave display to set frequency are some of its features. It is having a trial version and the full version is available at $49.
8.DFX AUDIO ENHANCER
The app is responsible for providing some of the most comfortable tools to work with. It is easy and very simple to understand.
Its features include 3D sound surround, ambiance, fidelity, Hyperbass, and Dynamic boost. If we discuss the features in detail, the 3D surround creates a more natural sound for a wide range of environments and pitches.
Even if you don't own a huge stereo system, fidelity helps to create that exact same effect for the audio. Hyperbass is good at providing the best bass for the audio clip and Dynamic boost increases the volume without evident distortion.
There are preset values like Streamcast, Hard Rock-grunge, techno-big among others. These provide a surreal effect on the chosen audio clip and produce an impressive output. This is a paid app with a trial version.
9.REALTEK HD AUDIO MANAGER
This open-source graphic equalizer comes with a ten band equalizer setting. The audio is conveniently modified in either the Equalizer or Environment category.
The app is easy to use and has accurate customization. The users can change sound settings in the speakers, line-in, stereo-mix, microphone.
The equalizer category has preset values like Rock, Pop, Jazz, Live, Club, and Karaoke. The environment category has preset values like underwater, forest, sewer pipe, and living room. You can even custom modify the sound according to your requirements.
It has negligible distortion and the audio is smooth and well-finished. The app is free and also comes as an add-on in a few Windows services. It works really well on 64-bit Windows versions. This is one the best free audio editing software for Windows PCs and laptops.
10.BREAKAWAY AUDIO ENHANCER
Breakaway Audio Enhancer is a software that allows easy editing of audio clips. It doesn't change the format of the music but improves its quality in real time.
It fixes the amplitude of both audio from the PC memory and browser plays. It is convenient for users who listen to music in the background while proceeding with other work.
It has some best tools to customize the music and also preset values to make work easier.
It gives users a studio experience of editing and also comes with a setup wizard. the setup wizard provides a step to step guide to go along the process of equalizing.
It allows users to test the sound so that they can decide on what part of the sound needs improving.
You don't have to worry about missing the dialogues of a movie as it keeps the background sound effects at a minimum to provide clear vocal audio. This app comes in a 30-day demo trial and later you have to purchase it for $29.95.
11.WINDOWS 10 DEFAULT EQUALIZER
How can you forget the custom Equalizer and talk about everything else? Windows default equalizer is a built-in Software in all Windows versions.
It has some impressive tools to work with but has annoying limitations too. It has preset values to improve the sound to Bass, Pop, Rock, Jazz, Treble and more.
It has a ten-band audio equalizing and allows manual equalizing. The changes made will be applied to all the sounds on the PC. This might not be the user's preference all the time.
You don't want to make mistakes while working on the audio. You have to repeat a series of steps to make changes to the improved version of the sound. If you are not a music enthusiast and only require a basic app to work with, default equalizer is for you.
12.BASS TREBLE BOOSTER
This app allows you to play with the bass and treble until your heart is content. It is compatible with formats like MP3, FLAC, WAV, OGG, and M4A.
It can handle changes in frequency in the range of 30 to 19 kHz. Thanks to its 15 frequency setting that works on a wide range of sounds.
It has preset values for quick usage. You don't have to worry about making mistakes because it allows users to revert back to default whenever they want.
The most important feature is it allows changing the format of music from one to another! It is available as a free app while certain features require you spend your bucks.
Download BASS TREBLE BOOSTER
There are some of the top Audio equalizers for Windows 10 to compose your own music. I think these are all the tools you will ever need to get your music right on Windows 10.